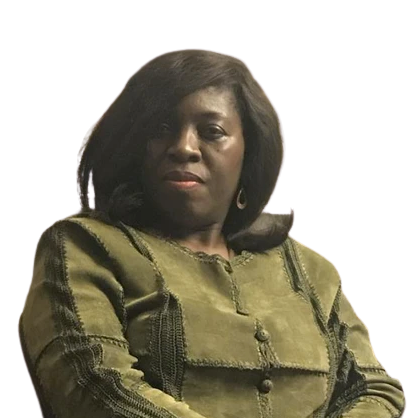 Member, Board of Diectors
Bridget A. Teboh is an Associate Professor of History at the University of Massachusetts-Dartmouth. She holds an M.A. in African Area Studies and a Ph.D. in African History from the University of California Los Angeles (UCLA). Her research interests are colonialism, post-coloniality, historical biography, African Diaspora, women's ikah [power], and historical ethnography.
Dr. Teboh's book, Unruly Mothers, Combative Wives: Rituals, Women and Change in the Cameroon Grassfields c. 1889-1960, a study of British colonialism in West Cameroon in the late19th and early 20th Centuries is forthcoming. She is presently completing a historical biography, Herstory: The Life and Times of "Madame Maternity," an extraordinary African woman, political/religious icon and health worker.
Mobile: 084 3456 19 89
E-mail: hello@printec.com
She received a B.A. (Hons.) from the University of Cameroon, Yaounde, a DUEF (Diplome d'Université d'Etudes Francais) from Université Jean-Moulin, Lyon III, France. She specializes in African History, African-American Women's History, Women's and Gender studies, African Diaspora and oral history. In 1996 and 1998, Dr. Teboh served as a Ford Foundation and ISOP (International Studies and Overseas Program) Scholar-in-Residence and Research Affiliate of the University of Cameroon, Yaounde. She has contributed scholarly works and book chapters on topics as diverse as African history and culture, historical methods, African feminism, gender and sexuality and economic development. She co-edited with Toyin Falola, Power of Gender: the Gender of Power: Women's Labor, Rights and Responsibility in Africa (Africa World Press, 2013). Other latest titles include, "A Tiwara Tribute for Nelson Mandela," in Toyin Falola (ed.) Iconic Tributes to Nelson Mandela. ((Durham, NC: Carolina Academic Press, 2014); "Gender and Jobs in the Making of a Colonial Economy," in Nana Amponsah (editor), Beyond the Boundaries: Toyin Falola and the Art of Genre-Bending (2013), "Gender and Globalization in Africa," in Mbah, Emmanuel and Salm, Steven J. (editors), Globalization and Changing Trends in Modern African History (Carolina Academic Press, 2012); and "Motherhood, Women's Body and 'Eating Well': Pregnancy, A Metaphor of Life in the Cameroon Grassfields," in Toyin Falola and Nana Akua Amponsah (editors), Women, Gender and Sexualities in Africa, (2012).
Representative of his accomplishments, he was awarded the Kwame Nkrumah Award for Service to Pan-Africanism in 2015, which is awarded to a scholar, administrator or politician who has contributed to the realization of the vision of African unity and development. He has also been awarded the Commander of the National Order of the Ivory Coast in 2010; D.Litt. Honorary Degree by the University of the West Indies, Barbados in 2011; and the CL Engelbrecht Prize by Die Suid-Afrikaanse Akademie vir Wetenskap en Kuns in 2012.